Your mother may have told you that breakfast was the most important meal of the day, and now that you have kids you are finding that this wasn't one of those myths that parents pass down through the generations like "Don't swim for an hour after you eat lunch." Ideally, exercise should not be undertaken on an empty stomach, and breakfast really is the most important meal of the day. When kids eat breakfast, they have energy for their morning tasks, and they are more likely to maintain energy throughout the day, perform better in school, and have better attitudes. You can ensure your kids get a healthy start to their day by making them a nutritious breakfast.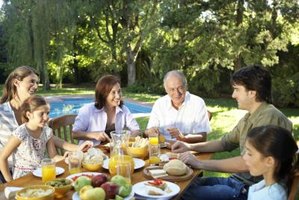 Determine your kids' calorie needs. The U.S. Department of Agriculture says that children ages 2 to 3 years need 1,000 calories per day, children ages 4 to 8 need 1,200 to 1,400 calories, girls ages 9 to 13 need 1,600 calories, boys ages 9 to 13 need 1,800 calories, girls ages 14 to 18 need 1,800 calories, and boys ages 14 to 18 need 2,200 calories. Kids should eat three meals a day and two snacks, and calorie needs should be distributed throughout the day.
Meet all their nutritional needs. Not just any calories will do. Many breakfast foods are loaded with empty calories, such as sugary cereal, breakfast bars and pastries. KidsHealth.org says that kids should get a variety of nutrients at breakfast, from foods including fruits, vegetables, whole grains, protein and dairy products.
Offer a variety of foods. Kids of all ages can be picky eaters. It may be hard to get them to eat anything for breakfast that's not a favorite cereal. By offering a variety of foods, you can increase the chances that they will eat something healthy in the meal you have created. Some good options for breakfast include fruit and yogurt served with a whole-grain bagel, waffle or granola, a vegetable omelet served with whole-grain toast and fruit or hot cereal topped with fruit and milk. The more options you present, the more likely your child is to eat at least some of his breakfast and get the calories and nutrients he needs for the day.
Make it fun. You might not ever be able to convince your child to eat a spinach omelette. However, you can convince him to eat some healthy foods in the morning by making breakfast fun. Younger kids may like a pancake or piece of whole-grain toast that is decorated with a fruit smiley face. A yogurt parfait looks like dessert, but it includes layers of organic yogurt, fruit and granola. Smoothies can be as tasty as milkshakes. Try banana and peanut butter, or fruit with low-fat yogurt and milk, or a tasty concoction that you sneak a vegetable into.